Our Faith
Our Faith

We are a Catholic community committed to developing educational opportunities in the context of Gospel values, where students' gifts and talents are celebrated and nurtured through lifelong spiritual and personal experiences.
SN's Patron Saint Nicholas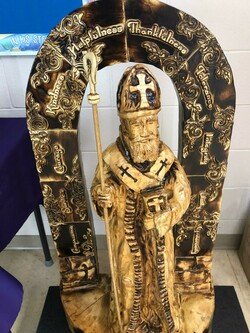 In our 2015-2016 school year, our school community chose Saint Nicholas as our school's Patron Saint. St. Nicholas, also known as the Bishop of Myra, is well known for his patronage of children, sick, afflicted, suffering, and disabled people. He is a prompt healer and a true consoler.
St. Nicholas day is venerated in Roman tradition on December 6 and in Ukrainian tradition on December 19. Every year at St. Nicholas all of our students are blessed with a special visit from Saint Nicholas in December. Our students can identify and connect their compassionate care, prayer, and love with our namesake, St. Nicholas and our school Saint